TATTOOS FOR COUPLES
One of the best bonding experience a couple can ever have is to get tattoos together, it's even better if they get romantically-themed tattoos. Here is a gallery of some of our favorite couples tattoos and other romantic ink.
A king and his queen.
'Til death do us part.
Really cool Peanuts inspired tattoos.
Matching sugar skull tattoos.
Fantastic old school tattoo.
Obviously these two aren't fans of deep dish.
An old school tattoo of a happy couple.
Mickey and Minnie Mouse are the first couple of animation.
Love and respect... two important aspects of a lasting relationship.
The Force is strong with this couple.
Is it possible to kiss without lips?
Lock and key.
These lovers complete each other like matching Tetris tattoos.
Creative matching tattoos.
What good is a campfire without some marshmallows? This adorable tattoo was done by Micah Harold.
A couple of lovebirds.
This back piece is hella romantic.
MATCHING TATTOOSCOUPLES TATTOOSROMANTIC TATTOOSTATTOOSTATTOO
SURVIVAL SECRETS TO WINNING A STREET FIGHT!
WHEN THERE IS NO OTHER CHOICE, BUT TO FIGHT!
By Jimbo Curley CEO, FightFast.com
Got some fight tips that can put you ahead of 99% of most other guys on the streets today – even if you've NEVER been in a fight before in your life.
What I'm sharing with you isn't guess work. It's proven through our intensive research of FBI white papers, violent crime reports and of course by being in the self-defense industry for over 30 years -- teaching average guys simple shortcuts to fighting and winning.
Our instructors are some of the most skilled and dangerous men on the planet, including Navy SEALS, pit fighters, DELTA Operatives, seasoned streetfighters, (with hundreds of fights under their belt), and other steely-eyed killers that no sane person would mess with.
We chose guys who can not only fight, but who can also teach their most badass secrets.
Before I get into any specific fighting techniques, there are some things you need to know.
I'll start with three "fight myths" that have been floating around for years. Here they are:
Myth #1: A Black Belt Wins. Not necessarily. An experienced street fighter, or even a regular guy who understands some simple nasty tricks, can often beat a dojo trained fighter. Now I don't like to "knock" the martial arts. We owe them a debt of gratitude. But it's a discipline -- an "art" if you will. Nothing wrong with that. But your typical street fight is anything but artful. Unlike boxing or MMA match fighting, on the streets there are NO rules. Your life will be on the line, and your one goal should be to end the fight in a couple seconds with YOU on top, no matter what it takes.
Myth #2: The 5-Minute Fist Fight. Hollywood has got this wrong. Stats show you're your average street fight lasts for no more than 3 to 8 seconds. Which means you have very little time to recognize what's going on and take decisive action to win. The key is what you do in the time leading up to that 3 to 8 seconds burst. Here's a hint: Hit first if you can. Research shows that the person who hits first usually wins.
Myth #3: The Convenient Fighting Environment. Dojo training often lulls one into the sense that you'll always have plenty of fighting room… that your opponent will calmly approach you, bow, and ask if you're ready… and that the ground will always be nicely padded. The reality is different. I've found that most fights occur in tight quarters (a bathroom, between cars, etc), with little or no room for flying kicks or fancy moves. They'll be little or no light, furniture in the way, and rough concrete floors to strip meat off your bones. Ouch!
Okay… enough myths. Here's the single most important piece of advice I can offer you in this short article. Stay with me here. This is REALLY important. Ready? Here it is:
Forget about fancy techniques. Instead concentrate on target acquisition.
In other words, if your opponent has his hands up in a boxing position don't go for his head. That target is not open. You'd be far more effective with a crudely executed kick to his leg or nut sack. If he drops his hands, his head and neck now become open targets.
Always view your opponent as a group of vulnerable targets, and then take advantage of the most exposed targets as quickly as possible by any means necessary. It's a rookie mistake to think about specific moves before seeking out a target.
Which means, assuming you're facing a definite threat, your first question should be: "What is my target?" After striking that target, the follow up question is: "What is my next target?"
Do not pause to see what effect your strikes are having. Keep going until the threat has ended or you have the chance to get the hell outta there.
If you want to get real good, real fast, learn striking techniques for specific targets. Good targets include the eyes, throat, solar plexus, the side of the neck, the groin, inside knee, and the outside thigh.
There's more, but that a good start.
In terms of techniques, an inexperienced fighter will typically have 2 moves. A right hand "haymaker" and a left hand "haymaker".
I think you can do better than that. Because, after countless interviews with some of the most accomplished fighters on the planet, I discovered that ALL of them were very quick to see open targets, (or to make them open), then unleash an arsenal of techniques to attack those open targets.
Which means you should learn at least a few dozen ways to attack your adversary's targets in each of the "four ranges" of fighting, including:
Long Range – pick up on 3 good long kicks.

Medium range – choose 3 good punches eye jabs and short kicks.

Close Range – Knees, elbow strikes, and fight-ending headbutts. Most of these moves mean instant knockout.

Grappling – Surprisingly, research shows that most fights don't go to the ground, but are ended from a standing position. But of course it does happen, so you need to have some ground skills.
TRS has produced some 200+ videos covering multiple techniques in each of these ranges, so obviously I can't cover everything here. But here are some moves for the first three ranges.
Long Range: The Sciatic Nerve Kick.
Mike Goldbach is a FightFast instructor who -- though he looks like a normal guy with no great size, strength or agility -- retired as a light heavyweight kickboxer without ever being defeated or having his championship taken away.
He's a big fan of the thigh kick. Hitting the area on the back of the leg where the Sciatic Nerve runs produces an immensely painful "charley horse" that can bring even a large man to his knees, unable to walk.
This turns out to be a higher-percentage strike than a groin kick, (the classic "sack-attack"), mainly because most men can quickly drop their hands and close their thighs to protect the family jewels.
Unfortunately many "store-front" martial art classes teach women to kick men "in the balls". It looks easy in the movies, but if the attacker has taken an aggressive stance, it's a difficult target.
The side/back of the leg on the other hand is usually wide open -- which makes the Sciatic Nerve kick a shockingly effective move.
Medium Range: The Eye Jab.
This is not the 3 Stooges. It's really just a technique to help you either escape or transition into the more devastating Close Range (sometimes called "Trapping" range).
Flicking at the eyes is much quicker and easier than throwing a punch, and at the very least it will produce a "flinch" response. Even if you miss his eyes, he will still blink as part of an autonomic nervous system response. Gives you a second or two to make your next move.
If you manage to touch or scratch the eyeballs, they will immediately water and blur his vision severely. That gives you a little more time.
And if you hit the bullseye with a full jab, you may just take the fight out of him and end it right there. You walk away. You win. As a U.S. Special Forces vet and FightFast instructor put it: "I know a lot of guys who can take a lot of pain. But nobody can 'tough-out' an eye-jab."
If he's still a threat, well, then you need a finishing move.
Close Range: The Head Butt.
One of the most effective and devastating finishing moves is the head-butt. As FightFast instructor and Navy SEAL trainer Paul Vunak teaches, you can do it wrong and still end the fight.
Your head has the approximate weight and solidness of a bowling ball, and by simply smashing your upper forehead against the face of your opponent, you are hitting him with tremendous disabling force. (Tip: Do not close your eyes while delivering a head-butt, or you may seriously disorient yourself.)
Just grab his ears or the hair at the back of his head, and ram your 11 pound skull into his nose.
"In reality," Paul states, "as soon as you deliver this blow, it's lights out, party over." Even if you miss his nose, anywhere you do hit will deliver knockout power and trauma. This is a devastating move, so please use with extreme discretion.
Overall, defending yourself, even against a larger opponent, is pretty easy stuff.
I hope this has helped. But before I leave, let me just add that ALL the fighters and military dudes I've met over the last 3 decades have one crucial piece of advice.
Here it is: If you can avoid a fight, you should.
They point out that the most unpredictable things can and will happen.
One fighter said that his 6' 2" 230-pound buddy tried to break up a fight between two pipsqueaks slugging it out in a restaurant. Kinda like John Wayne enforcing the peace. Well, one of the pipsqueaks pulled out a knife and stabbed him dead, right there.
Point is, every fight can be lethal. Take that seriously. If you can just smile and walk away from some idiot who's in your face, try that first.
TRUMP DUMP—18 TERRIFIC AND TERRIBLE POTUS TATTOOS
CHECK OUT THE POTUS IN INK!
Whether you love him or hate him, our current President, Donald Trump, has an extremely distinctive look. His signature mug has inspired a number of unique tattoos, both for his fans and his biggest haters. Take a look at the gallery below to view 18 of our favorite Trump inspired tattoos and get ready to laugh out loud. Then, don't be afraid to share your thoughts on these controversial tattoos in the comments section on Facebook.
BRING ON THE POLITICAL INK!
CHECK OUT THE POTUS IN INK!
Whether you love him or hate him, our current President, Donald Trump, has an extremely distinctive look. His signature mug has inspired a number of unique tattoos, both for his fans and his biggest haters. Take a look at the gallery below to view 18 of our favorite Trump inspired tattoos and get ready to laugh out loud. Then, don't be afraid to share your thoughts on these controversial tattoos in the comments section on Facebook.
BRING ON THE POLITICAL INK!
A talk with tattoo-researcher Ole Wittmann on Germany's first professional tattoo artists
Ole Wittmann is a german art historian with a focus on research on tattoos. In 2015, he wrote his doctoral thesis on the human body as an image carrier for tattoos. His dissertation »Tattoos in der Kunst« (tattooing in the fine arts) was published in 2017.
OLE WITTMANN – TATTOO-AUSSTELLUNG
As a postdoctoral fellow he led the research project »The Estate of the Hamburg Tattooist Christian Warlich (1891-1964)«. In 2019/20, he curated the special exhibition »Tattoo Legends. Christian Warlich on St. Pauli« at the Museum of Hamburg History.
NEW EDITION OF CHRISTIAN WARLICH'S TATTOO FLASH BOOK (RELEASE SEPT. 2019)
He is also a founding member, research director and board member of the Institute for German Tattoo History e.V. (IDTG) and managing director of Nachlass Warlich, which distributes the product Warlich Rum.
CHRISTIAN WARLICH IN HIS TATTOO PUB IN HAMBURG ST. PAULI, C. 1936 – PHOTO: ERICH ANDRES, IMAGE CREDIT: SHMH, MUSEUM FÜR HAMBURGISCHE GESCHICHTE
We had a talk with Ole to shed some light on these very early years of tattooing in Germany.
Ole, you research German tattoo history and especially life and work of the famous German tattoo artist Christian Warlich (1891 – 1964) in Hamburg. If I remember it correctly, he called himself, the king of tattooists. Was Warlich the first professional german tattooist?
No, tattoo artists who earned their living by tattooing existed even before Warlich. In Hamburg, for example, there was Karl Finke. However, Warlich has strongly professionalized the trade. He had an area for tattooing in his grog pub and thus a kind of publicly accessible tattoo studio.
CHRISTIAN WARLICH AND HIS CUSTOMER KARL OERGEL, C. 1930 – IMAGE CREDIT: SHMH, MUSEUM FÜR HAMBURGISCHE GESCHICHTE
What made Warlich stand out from other tattooists? Was he better than the others or was he just better at promoting himself?
Before Warlich, tattooing was a mobile profession. Tattoo artists had everything they needed to work with them and tattooed where they found customers: in pubs, on boats, in parks, at fairs, etc. He changed the tattoo trade in that he took it to a new level. He not only worked at a fixed address, but stood out in terms of quality of his work. He also knew how to promote himself and his work appropriately.
ADVERTISING CARD OF CHRISTIAN WARLICH, BEFORE 1948 – IMAGE CREDIT: SHMH, MUSEUM FÜR HAMBURGISCHE GESCHICHTE
ADVERTISING CARD OF CHRISTIAN WARLICH, BEFORE 1948 – IMAGE CREDIT: SHMH, MUSEUM FÜR HAMBURGISCHE GESCHICHTE
The image we have of tattooists in the first half of the twentieth century – or earlier – is that of a guy who lures drunken sailors and easy women into a shady workshop to rip them off. Is that completely wrong or can you paint a more accurate picture of tattooists around 1900?
Little is known about Hamburg tattoo artists at the turn of the century. In fact, there are indications that some tattoo artists had a rather unsteady lifestyle and pursued various activities. Also the one or other connection to a crime is handed down.
FLASH SHEET BY CHRISTIAN WARLICH, PROBABLY 1930/40IES – IMAGE CREDIT: PRIVATE COLLECTION WILLIAN ROBINSON, HAMBURG
What made people like Warlich become tattooists? It was far from being seen as a normal profession as we see it today?
Why Warlich became a tattoo artist is not known. But he seems to have been driven by a great passion since, according to his own statement, he tattooed schoolmates as a child. The high standard of his work and his concern to translate works of fine art into tattoos also indicate this.
Certainly, the profession of tattoo artist was then much more unusual than today.
This becomes clear when you consider that around 1930 there were about a dozen more or less professional tattoo artists in Germany.
On the one hand we think of sailors or prostitutes as clients of tattooists at that time, but it's also known that a lot of the European high nobility found it chic to get tattoos – how could they go together?
I don't think that's a contradiction. Getting a tattoo can be a kind of basic need and is, in a way, an anthropological constant. It doesn't matter which class you belong to. That may influence showing tattoos, but not the desire to have them.
CHRISTIAN WARLICH APPLYING A STENCIL ON A CUSTOMER, C. 1936 – PHOTO: ERICH ANDRES, IMAGE CREDIT: SHMH, MUSEUM FÜR HAMBURGISCHE GESCHICHTE
What are your main sources to research German tattoo history? I could imagine that the tattoo culture wasn't seen as worth preserving at that time by museums or other cultural institutions, which makes it probably harder?
Yes that's right, few institutions were aware of the importance of tattoo-specific objects. Hardly any museum has collected them. Exceptions are, for example, the Museum of Hamburg History, the Dresden State Art Collections, the Institute for Saxon History and Folklore or the Cantonal Library of Appenzell Ausserrhoden. An important source in literature is the text »Die Tätowierung in den deutschen Hafenstädten« (The tattoo in german harbor cities) written by Adolf Spamer in 1933.
CHRISTIAN WARLICH AND HIS CUSTOMER PAUL BRODECK – IMAGE CREDIT: SHMH, MUSEUM FÜR HAMBURGISCHE GESCHICHTE
Samuel O'Reilly invented an electric tattoo machine in 1891, so did all tattooists use electric tools after that?
This cannot be said for Germany, as there is no documentation on this. In any case, Warlich and Finke worked with tattoo machines.
If my memory serves me right, I once saw a sign by Warlich, claiming to use »poison-free« colors – do you know what they were actually made of?
No, that is not known.
CHRISTIAN WARLICH SHOWS OFF HIS FLASH BOOK, C. 1936 – PHOTO: ERICH ANDRES, IMAGE CREDIT: SHMH, MUSEUM FÜR HAMBURGISCHE GESCHICHTE
Warlich also used a famous and mysterious tincture that enabled him to remove tattoos – they detached in one piece from the clients skin and he collected them in a box. Did someone ever find out what he used?
Yes, I was actually able to find that out as part of my research project on Christian Warlich. There was an incident that led to Warlich having to submit his recipe to the health authorities. The document listed all the ingredients. A pharmacist remixed it and was able to verify that it worked.
CHRISTIAN WARLICH BEHIND THE BAR OF HIS TAVERN, C. 1960
Today it is normal for artists all over the world to exchange ideas, inspiration – how was that in the "old times"? Was there more competition or did the artists of those days also have contact among each other to keep each other updated on technologies or designs?
Also at that time tattoo artists have exchanged ideas and information. Initially through personal contact or by mail. Warlich was, for example, in exchange with Tattoo Ole in Copenhagen and much speaks for the fact that he also had contact with Charlie Wagner in New York City. In the seventies, the first tattoo meetings took place in Germany and organizations were formed.
CUSTOMER OF CHRISTIAN WARLICH – IMAGE CREDIT: SHMH, MUSEUM FÜR HAMBURGISCHE GESCHICHTE
Tattoo artist Herbert Hoffmann, who died in 2010, often claimed that during the Nazi-era tattooing was completely forbidden in Germany and tattooists were likely to be prosecuted. Is that correct? How did tattooists in Germany adapt in that time?
Hoffmann was the most famous Hamburg tattoo artist after Warlich. The Nazi period is an interesting chapter in German tattoo history. Here, too, there are many myths. One is that tattooing was forbidden during the time. I tried to verify this as part of my dissertation. In fact, there is no decree or law that says that tattooing was forbidden.
Of course, this does not mean that tattoo artists were not persecuted.
After all, arbitrariness prevailed and even a politically undesirable tattoo motif or a lifestyle that was not in conformity with the political system could lead to arrest. Also, I once read that the tattoo artist Wilhelm Blumberg had been imprisoned because he was a tattoo artist. But it is also possible that he was Jewish and therefore imprisoned. You really have to do a very thorough fact check when writing tattoo history.
CHRISTIAN WARLICH IN THE SEPARATE TATTOO AREA OF HIS PUB IN HAMBURG ST. PAULI, C. 1960 – IMAGE CREDIT: SHMH, MUSEUM FÜR HAMBURGISCHE GESCHICHTE
As far as I know, a lot of things from Christian Warlich were passed on to his client Tattoo Theo / Theodor Vetter, a tattoo enthusiast who died in 2004, but was more or less lost after Theos death. Have you been able to find some of Warlich's legacy?
Yes, the research project on Warlich has succeeded in locating most of the objects. Fortunately, part of Warlich's estate has been in the care of the Museum für Hamburgische Geschichte since 1965. The part that belonged to Vetter is now in the possession of the collector William Robinson, who today runs the Tattoo Museum Varkhaus in Finland. Other parts are owned by the Vetter family and in the collection of Jimmie Skuse.
THE WINDOW OF CHRISTIAN WARLICH'S TAVERN, C. 1936 – PHOTO: ERICH ANDRES, IMAGE CREDIT: SHMH, MUSEUM FÜR HAMBURGISCHE GESCHICHTE
Where can people learn more about German tattoo history now?
The publication by Adolf Spamer mentioned above is still a rich source. My books on tattoos in art, Christian Warlich and Karl Finke also give an insight into German tattoo history. The latter two have been published in a bilingual edition (German/English). The most important place to go in the future is probably the Institut für deutsche Tattoo-Geschichte/Institute for German Tattoo History (IDTG), which is expected to publish its first book in 2023/24.
OLE WITTMANN – TATTOO-AUSSTELLUNG
Dirk-Boris Rödel (53) started his career in tattoo-journalism thirty years ago. In his university major (Japanese studies and cultural sciences), he wrote his final thesis about the development of the Japanese art of tattooing from the Edo period until the present day. He was chief editor of TätowierMagazin, Germanys oldest tattoo magazine, for eighteen years and wrote several books on tattooing. Dirk-Boris Rödel gets invited regularly to tattoo shows in Edinburgh or Shanghai to judge the tattoo contests. He is the agent of Tattoo Life for the German edition of the Yearbook Tattooists.
It was in1924 that the French writer André Breton published his Manifesto of Surrealism, giving birth to a literary and artistic movement which would soon become the avant garde of the period.
LEONORA CARRINGTON, THE PLEASURES OF DAGOBERT
Rationality was rejected in favour of alternative paths: dreams, the irrational, the unconscious, but also magic, mythology, alchemy and the occult, themes which could spur and free the imagination beyond all limitations.
LEONOR FINI, END OF THE EARTH
In their work Surrealist artists frequently drew on occult symbolism and cultivated the traditional image of the artist's persona as a magician, seer, and alchemist, looking to magic as a poetic and deeply philosophical discourse related to individual self-empowerment.
LEONOR FINI, PORTRAIT DE LA PRINCESSE FRANCESCA RUSPOLI
"[Magic is] the means of approaching the unknown by other ways than those of science or religion." Max Ernst, 1946
PAUL DELVAUX, THE CALL OF THE NIGHT
Magic becomes a key to cultural and spiritual rebirth in the post-war period, allowing them to reach the objective of a total revolution which is not merely material but also of the mind, an individual transformation which become the means by which to change the world.
GIORGIO DE CHIRICO, MUSE METAFISICHE
This is the theme of the major exhibition Surrealism and Magic: Enchanted Modernity under way in Venice at the Peggy Guggenheim Collection until 26th September, a revelation for all lovers of this artistic genre which has had such weight and allure as to give rise to so many contemporary derivations.
RENE MAGRITTE, BLACK MAGIC
The keystone of the exhibition is the magnificent trove of Surrealist works in the Peggy Guggenheim Collection, iconic pieces which powerfully reflect the dialogue between the Surrealists and the occult. Many artists whose work is featured in this show, were exhibited by Peggy Guggenheim who emerged as one of the most energetic collectors and patrons of Surrealism toward the end of the 1930s. It was in those years that this patron of the arts became familiar with the movement and an intimate friend of Ernst and Breton.
VICTOR BRAUNER, THE SURREALIST
Surrealism and magic. Enchanted modernity revolves around themes such as alchemy, metamorphosis and androgyny, the tarot, totemic substance, the cosmic and invisible dimensions, nature and the notion of the artist as mage and woman as a magical creature, goddess and witch.
DOROTHEA TANNING, THE MAGIC FLOWER GAME
Presenting about 60 works, in the Venetian venue, from over 40 international museums and private collections, it offers a rich overview of the entire development of the Surrealist movement, exploring the myriad ways, in which magic and the occult informed its artistic trajectory, from the "metaphysical painting" of Giorgio de Chirico around 1915, through Max Ernst's iconic painting Attirement of the Bride (1940), to the occult imagery that underpinned the late works of Leonora Carrington and Remedios Varo.
MAX ERNST, ATTIREMENT OF THE BRIDE
Surrealism and Magic: Enchanted Modernity is a joint exhibition project between the Peggy Guggenheim Collection and the Museum Barberini. It is the first large-scale international loan exhibition that looks at the movement's interest in magic and the occult.
Surrealism and magic. Enchanted modernity.
Curated by Gražina Subelytė, Associate Curator, Peggy Guggenheim Collection
Until 26 September 2022
Peggy Guggenheim Collection, Venice
Lars Krutak is a Research Associate at the Museum of International Folk Art, Santa Fe, New Mexico, and a worldwide renowned expert for the history of traditional tattooing all around the globe.
His work helps to preserve and to better understand the tattoo culture of indigenous people from the Philippines to Canada, from India to South America and from Borneo to Siberia.
LARS WITH KALINGA TATTOO MASTER APO WHANG-OD OGGAY. LARS HAS BEEN WORKING WITH WHANG-OD SINCE 2007 WHEN HE FIRST SET FOOT IN HER VILLAGE TO FILM AND HOST THE DISCOVERY CHANNEL SERIES TATTOO HUNTER. THE SERIES WAS BROADCAST IN 2010 AND WHANG-OD BECAME KNOWN TO THE WORLD. TODAY, THOUSANDS OF DOMESTIC AND INTERNATIONAL "TATTOO PILGRIMS" VISIT HER HOME VILLAGE TO ACQUIRE TATTOOS FROM HER AND HER APPRENTICES. BUSCALAN VILLAGE, PHILIPPINES. PHOTO © LARS KRUTAK 2016.
Clicking on the link above shows you a selection of just some of his publications; Lars Krutak is in the top 1% of all researchers on academia.edu.
However, Lars is not the kind of scientist who just works for creating heaps of scientific literature to which only few educated have access; he is the kind of guy who wants to share and explain the results of his researches to a wide audience. So we were happy that in between his travels, lectures and book projects he found some time to speak about his work and his conclusions.
MENTAWAI TATTOOING SESSION, BUTUI VILLAGE, SIBERUT ISLAND. INDONESIA. PHOTO © LARS KRUTAK 2007.
See Lars' recent project in the field with the Naga of India. More information about the project can be seen in the YouTube description.
Charles Darwin and also James Cook came on their travels to the conclusion that there is no culture or tribe in the world that doesn't practice tattooing or at least hasn't practiced it over the course of it's history; can you confirm their observation?
LARS: In the "Descent of Man," Darwin did offer a quote that tattooing was a universal human practice and Cook noted something similar in his writings. While various forms of permanent and impermanent body-modification practice have been part of human history since the beginning of recorded time, there are countless societies and Indigenous cultures where tattooing was not practiced.
TA'KONG, A YONKON NAGA WOMAN OF HKAMPTI TOWN, MYANMAR. THE "TEAR-LIKE" FACIAL TATTOOS WERE HAND-TAPPED INTO THE SKIN WITH A THORNED TOOL, AND THE PIGMENT WAS MADE FROM LACQUER TREE RESIN. THE MARKINGS ARE BELIEVED TO REPEL EVIL SPIRITS AND HELP CARRY THE WEARER INTO THE AFTERLIFE. PHOTO © LARS KRUTAK 2014.
For quite a while the ice-mummy Ötzi, discovered in the Italian alps and estimated to be around 5200 years old, was said to be the oldest proof of tattooing, but in the meantime tattooed mummys were also found in South America, Egypt, Siberia… so which one is the oldest tattooed human body discovered so far?
LARS: At present, Ötzi holds the record for the oldest tattoos (geometric) found on a human body. At the British Museum two Predynastic Egyptian mummies (a male and female) from the Gebelein site possess the world's oldest figurative tattoos (animals and a staff), and they are almost as old as Ötzi (~5000-5100 years old). However, soon you will be reading about tattoos in the global media that are the oldest in the world, but I cannot provide any other details – it's a secret!
KALINGA WARRIORS LAKAY MAYMAYAO SAGANGAB AND WAR LEADER JAIME ALOS OF DANANAO VILLAGE, PHILIPPINES. PHOTO © LARS KRUTAK 2008.
What is it that makes tattooing so universal? Where does the urge to tattoo oneself come from? Can you see differences in the meaning of tattoos in traditional societies compared to our modern-day tattoo-scene (apart from the designs and patterns)?
LARS: Tattooed skin embodies a powerful narrative function and has always been fundamental in establishing personal and collective identity. For example, Indigenous tattoos represented the individual like a name and transmitted aspects of a person's biography (rites of passage, other achievements, etc.) through their lifetimes and onwards into the afterlife.
Tattoos transmitted information regarding where a person came from, what territory they belonged to, and who their ancestors were.
Humans have produced tattoos for millennia because there is something that demands to be said that cannot otherwise be expressed via other mediums of communication, like writing or language.
WAIMA ELDERS OA'ETE AIHI, MADELEINE BAEHO BAKI, AND HER SISTER MARY AVIA BAKI WAITING FOR A FUNERAL PROCESSION IN WAIMA VILLAGE, PAPUA NEW GUINEA. ALL PARTS OF A WAIMA WOMAN'S BODY WERE TATTOOED WITH A LEMON THORN IMPLEMENT AT SIGNIFICANT LIFE EVENTS, INCLUDING THE SCALP WHICH WAS SHAVED BEFORE THE TATTOOING TOOK PLACE. PHOTO © LARS KRUTAK 2012.
No matter where we come from, we have this natural impulse to mark significant life changing events on our bodies, and tattooing is a kind of social media of memories, thoughts, and feelings that enable us to not only interact with one another and manage the cultural demands we live in, but to make our own personal histories visible.
THE KAYAN HAND TATTOOS OF ADO NGO PROMOTE FERTILITY AND REPEL EVIL SPIRITS ENCOUNTERED IN THE JUNGLE. AT DEATH, THE KAYAN BELIEVE A WOMAN'S TATTOOS BURN LIKE A TORCH TO GUIDE THEM THROUGH THE DARKNESS OF THE AFTERLIFE TO THE VILLAGES OF THEIR BELOVED ANCESTORS. SARAWAK, BORNEO. PHOTO © LARS KRUTAK 2011.
Quite often the tattoos of tribes living in traditional communities are frowned upon by the western-oriented society of their respective countries who see them as a sign of backwardness. How do such tribal communities react when you show them your interest in their culture?
LARS: I should add that sometimes even young people in tribal communities look down on the tattoos of their elders because they are seen as backward and not modern. For example, I have interviewed many tribal youth and they are more interested in Western tattoos because they are more colorful as compared to the traditional blackwork of their ancestral traditions. Also, today numerous entertainers, sports stars, and other famous people are tattooed in various styles which adds to the perceived status of these kinds of tattoos in contrast to tribal tattoos.
I spend most of my time in the field working with tattooed elders and peoples' grandparents because they often represent the last generation of tattoo bearers.
Since I have tattoos, that helps break the ice because even though I come from a different culture, tattooed elders immediately understand (and see) that we have something in common. I also arrive with lots of tattoo knowledge based on homework, Indigenous tattoo terms, and old pictures, not to mention gifts like old reading glasses, nail clippers, beads, and other useful things.
TWO MAKONDE "BEST FRIENDS" WHO WERE INITIATED AT THE SAME TIME AND TATTOOED BY THE SAME ARTIST. "THESE TATTOOS GAVE US GREAT PRIDE IN OURSELVES. THE PAIN WAS WORTH IT. YOU COULDN'T GET OUT OF IT, AND WE WERE WORRIED AND NERVOUS, BUT THEY WERE COMPLETED QUICKLY." MAKONDE TATTOOS WERE CREATED VIA INCISIONS, THEN A PIGMENT MADE FROM CHARRED CASTOR BEANS WAS RAPIDLY RUBBED INTO THE OPEN WOUNDS. MUIDUMBE, MOZAMBIQUE. PHOTO © LARS KRUTAK 2007.
All of these things help break down cultural barriers and establish my respect for local culture. People can tell that I am not a tourist (!) and that I am very serious researcher who wants to learn more about the history and stories behind their tattoos. Working with elders is a benefit in itself, because in Indigenous communities, elders are highly respected for their traditional knowledge and leadership. So my work usually generates a lot of positive community interest.
90-YEAR-OLD NOKGING WANGNAO IS ONE OF THE LAST TATTOOED KONYAK NAGA WARRIORS OF HUNGPHOI VILLAGE. HE EARNED THE RIGHT TO BE TATTOOED AFTER SLAYING AN ENEMY AS A YOUNG MAN. HIS NECKLACE TALLIES ADDITIONAL HUMAN KILLS. NAGALAND, INDIA. PHOTO © LARS KRUTAK 2018.
What are the purposes of tattooing in indigenous cultures?
LARS: Throughout history, Indigenous people have applied tattoos to living skin in their attempts to beautify, heal, empower, or carry the body into the afterlife. Others were marked for their achievements in warfare, weaving, or hunting. Some tattoos were believed to repel evil spirits whereas others might draw upon ancestral power for the benefit of the wearer.
KILA PALA RUPA, ONE OF THE LAST FULLY TATTOOED HULA WOMEN. THE STEPPED TATTOOS ON KILA'S CHEEKS AND NOSE NOTE THAT HER FATHER PARTICIPATED IN SEVERAL SUCCESSFUL TRADING VOYAGES. OTHER TATTOOS WERE PLACED ON HER BODY AT IMPORTANT RITES OF PASSAGE, INCLUDING THE THROAT MOTIF WHICH DENOTES SHE IS MARRIED. BABAKA VILLAGE, PAPUA NEW GUINEA. PHOTO © LARS KRUTAK 2012.
Is tattooing in tribal cultures linked to other arts and handcrafts and arts of these cultures?
LARS: In many Indigenous cultures the same patterns used in tattooing might also be used in basketry, weaving, amulets, or carving traditions. Among the Iban of Borneo, women who excelled in weaving ikat fabrics called pua kumbu' were allowed to bear specific tattoo patterns depending on what stage of mastery she had acquired in weaving. The highest stage of weaver, or those women who created their own patterns with the assistance of spirit helpers, wove ceremonial fabrics used to received enemy heads taken in combat by men; this was called kayau indu' or "women's war." For this feat, weavers of this class could earn the right to hand tattoos (tegulun) which were also worn by veteran warriors who had taken human heads.
ULIN AND DUNGGAO, TWO IBAN FRIENDS OF EMPERAN LONGHOUSE. DUNGGAO BEARS MAGICAL EYEBROW TATTOOS BELIEVED TO HAVE THE POWER TO ATTRACT WOMEN. THE SHOULDER ROSETTE (BUNGA TERONG) IS BASED ON THE WILD EGGPLANT FLOWER, AND EACH PETAL STANDS FOR DEGREES OF PATIENCE A MAN CARRIES THROUGH LIFE. THE SWIRLING ELEMENT WITHIN THE FLOWER IS A TADPOLE, AND IS A FERTILITY SYMBOL. SARAWAK, BORNEO. PHOTO © LARS KRUTAK 2011.
Today we think of tattooing as putting color in the skin with a needle, by hand or machine – but have there also been other tools and techniques over the times and different cultures?
LARS: Worldwide various substances have been used to create tattooing ink. Among Indigenous peoples, vegetable carbon (e.g., soot) was the most common. As far as traditional techniques, skin-stitching or needle-and-thread tattooing where the pigmented thread is drawn through the skin with a needle, was used across the Arctic and Native North America. Hand-poking, where the design is poked into the skin with a sharp pigment-tipped needle, was a more common method of tattoo application.
KULJELJE KALIVUAN, CUDJUY PATJIDRES, AND CANGAL ARE PART OF THE PAIWAN TATTOO REVIVAL. CUDJUY HAS RE-MASTERED HAND-TAPPING TECHNIQUES AND HONORS THE ANCESTRAL TRADITION OF TATTOOING AMONG HIS PEOPLE. PINTUNG COUNTY, TAIWAN. PHOTO © LARS KRUTAK 2016.
Simple needles, usually two in number obtained from cactus or palm-tree spines, were wound together with cotton thread to prick the skin. The small space between the needle tips acted as a reservoir that held the liquid tattoo pigment in place. However, the needles had to be dabbed into the pigment after a few pricks had been made to keep this reservoir full. This technique was employed in the Middle East, Balkans, Amazon and other regions of South America, Northwest Mexico and the American Southwest.
FOUR TATTOOED KAYAN WOMEN OF LONG MURUM. KAYAN WOMEN WERE EXTENSIVELY TATTOOED ON THEIR LOWER LIMBS AND ARMS FOR SPIRITUAL PROTECTION AND FERTILITY. SADLY, THE TRADITION IS RAPIDLY DISAPPEARING DUE TO DECADES OF CHRISTIAN MISSIONIZATION. SARAWAK, BORNEO. PHOTO © LARS KRUTAK 2011.
Hand-poked tattoos continue to be given across Indochina and Japan. Hand-tapping, where one or more comb-like rows of needles is attached at a right angle to the end of a baton and struck with a heavy object or mallet, is perhaps the most ubiquitous traditional technique and Indigenous to Oceania, Southeast Asia and parts of Melanesia (e.g., Papua New Guinea). In some regions of Africa, North America and Asia, the method of scar tattooing was employed.
Here, skin incisions were made with a lancet (obsidian, iron, etc.), and the tattooing pigment was immediately rubbed into the open wounds.
There is a very rare technique that I call "hand-hammering" that might be ancestral to hand-tapping. It is found only in a small region of Northeast India among the Konyak and Wancho Naga. Female technicians fashioned an adze-like tool with a row of bush thorns and basically hammered the needles into the skin.
CHEN NAGA ELDER CHINGHAM CHATRAHPA OF CHEN LOISHO VILLAGE IS ONE OF ONLY TWO MEN LIVING TODAY WITH THE NECK TATTOOS OF HIS ANCESTORS. "BOTH MY FATHER AND GRANDFATHER HAD THESE NECK TATTOOS – THE SAME PATTERNS," HE SAID. "WHEN WE WERE YOUNG, WE WEREN'T WEARING ANY CLOTHES AT ALL. AFTER YOU RECEIVED THE TATTOOS YOU NOT ONLY CAME OF AGE, BUT YOU WERE ALLOWED TO START WEARING CLOTHES AND ORNAMENTS AS WELL. WE COULD ALSO GET MARRIED." NAGALAND, INDIA. PHOTO © LARS KRUTAK 2019.
In the past few years, tribal tattoo patterns from some indigenous tribes of Borneo or from the native New Zealanders, the Maori, have become very popular in the west, but some of the traditional cultures see this as a form of cultural appropriation; how do you think about this?
LARS: Tattooing is more popular today than perhaps at any point in its history and as a tradition and practice it has always been evolving over the millennia. For example, I know several Indigenous cultures who borrowed and copied the patterns of other societies to make them their own. And today, many Indigenous tattoo artists fuse and mix Western designs with tribal patterns to create hybrid and contemporary styles for their Indigenous and non-Indigenous clients. That being said, I think it is very important to work with a respected tattoo artist who knows the cultural protocols involved in giving and receiving a tribally-inspired tattoo, and what would be appropriate for their client to wear.
Is there an especially remarkable encounter or anecdote that you can tell from your research in that field?
When I started my tattoo studies, there was a widely held myth across Indigenous cultures that the profession of tattoo artist was male-centered. But this was simply not true, and as I began compiling research and conducting fieldwork it was apparent that women performed this role more often than not. With this in mind I wanted to set the record straight, so in 2007 I wrote my first book The Tattooing Arts of the Tribal Women.
MARK OF THE FOUR WAVES MEMBERS SAMPAGUITA JAY, JAZMINE ATIENZA, AND HANNAH PEREZ. JAY AND ATIENZA ARE SPIRITUAL JOURNEY TATTOO ARTISTS WHO CARRY ON THE ANCIENT TRADITION OF FILIPINO TATTOOING. ANAHEIM, CALIFORNIA. PHOTO © LARS KRUTAK 2017.
Globally, there still are many Indigenous groups whose tattooing traditions are not well-known, especially in places like Amazonia and northern Myanmar, and research should be conducted to preserve this vanishing cultural and artistic heritage. Topically, however, perhaps the least studied aspect of Indigenous tattooing is its use as a medicinal therapy (e.g., rheumatism, joint pain, etc.) and its role in boosting the immune system. More specifically, little research has been conducted regarding the pigments used by ancient and more recent peoples. I have documented numerous Indigenous plants used in the preparation of tattooing ink as well as in aftercare products, but most of these species are only known locally and do not have English language equivalents. Thus, these plants have not been identified scientifically and they may yield important discoveries.
ANNA AGHTUQAAYAK (QAYAGHHAQ) WAS THE LAST FULLY TATTOOED WOMAN TO LIVE ON ST. LAWRENCE ISLAND IN THE BERING SEA. GAMBELL VILLAGE, ST. LAWRENCE ISLAND, ALASKA. PHOTO © LARS KRUTAK 1997.
Can you tell us about future projects you might be working on?
LARS: In September, the new Humboldt Forum Museum in Berlin will showcase several of my photos on the tattooing traditions of the Naga people of India and Myanmar. A series of special lectures and events will occur at the same time because the museum is opening a new Asian exhibition space where these photos can be seen. 2023 looks to be a big year for me. I have two new books coming out, a huge project 20 years in the making covering the Indigenous tattoos of Asia and another book with a Japanese publisher entitled The World Atlas of Tribal Tattooing. Updates on these and other projects will be posted on my website www.larskrutak.com. Also, I have two chapters in the 2023 Oxford Handbook on the Archaeology and Anthropology of Body Modification: one focuses on prehistoric "tattooed" human figurines in Japan, Arctic, Egypt, and South America and the other is on the anthropology of Indigenous tattooing that is co-written with Indigenous tattoo artist Dion Kaszas of Canada.
Yōkai. One hundred candles and a thousand scary creatures
The fascinating, bizarre and utterly singular creatures which populate Japanese legend, frightening creatures with supernatural powers, some evil, others benevolent, some preferring to live in wild places and avoid human kind, others choosing to live near or among them.
KUNIYOSHI UTAGAWA_THE WITCH PRINCESS TAKIYASHA AND HER FATHER'S SKELETON_1844
The secrets of this world are revealed in the exhibition Yōkai. Period prints of Japanese monsters, in Villa Reale in Monza.
CHIKANOBU YOSHU YAMASHIRO NEVE A ROKUHARA 1884
The ritual began after sunset: the samurai met in a room illuminated by the light of one hundred candles. Each samurai told his companions a story with the aim of frightening them with tales of the monsters of Japanese tradition.
HIROSHIGE UTAGAWA_VOLPE DI KUZUNOHA
Jorogumo, comely maidens who reveal to their victims their true nature as enormous spiders. Tanuki, amiable shape-shifting badgers: Bakeneko, monstruous cats; Kappa, water creatures who interfere with boats; Ningyo, Japnese mermaids whose perfumed flesh can grant men youth or a horrible death; Okiku, the inconsolable ghost in search of the tenth plate which was stolen from her…
HOKUSAI KATSUSHIKA 1836_1857
At the end of the horror story, whoever had told it had to stand up, blow out the candle in his lantern, take a mirror and gaze into it in the furthest corner: the gradual dimming of the light in the room accompanied the telling of ever more frightening, suspenseful tales.
KUNIYOSHI UTAGAWA_OKABE 1843_1847
It is the monsters of these stories, featured in magnificent works by the most famous Japanese artists of the 18th and 19th centuries, which are the focus of this exhibition Yōkai. Period prints of Japanese Monsters, curated by Paolo Linetti and at Villa Reale di Monza until 21st August 2022.
HOKUSAI KATSUSHIKA, OIWA E YUREI_1850
A fantastic journey with stories combining myth, thrills and mystery in two hundred works by the most frightening Japanese artists of the 18th and 19th centuries.
NOH KAPPA 1890 KAPPA THEATER MASK
Historic woodcuts and rare old books as well as period clothes, traditional weapons, a set of Samurai armour and 77 little sculpted ivory netsukes never seen before in public. Like an eleven metre long scroll, this too on exhibition for the first time, which tells the tale of Shutendoji, a mythological creature (Oni) at the head of an army of monsters which haunted Mount Oe in the Kyoto area.
YAROI_SAMURAI ARMOR AND CHEST OF ARMS, LATE 19TH CENTURY
YAROI_SAMURAI ARMOR AND CHEST OF ARMS_ LATE 19TH CENTURY
The exhibition is subdivided into eleven sections, designed as a journey through Japanese imagery. It opens with an emersive room which allows the public to relive the traditional test of courage endured by the samurai in the Ritual of a hundred candles.
CORRIMENTAL ROLL WITH RAIKO_ LATE 19TH CENTURY
The project is complete with a section produced by the publisher Hop!, works by Loputyn, real name Jessica Cioffi, who presents us with six original illustrations created for the occasion, inspired by and depicting six Japanese legends.
LOPUTYN_KITSUNE_2022_22X32CM
LOPUTYN_JORŌGUMO_2022_50X70CM
LOPUTYN_HONE ONNA_2022_50X70CM
In each illustration the artist gives a contemporary twist to a tale and a monster in her own inimitable style. All six illustrations are available in a small book published by HOP! on sale exclusively at the exhibition.
HOKUSAI KATSUSHIKA_RAIKO AND THE EARTH SPIDER_1849
KUNIYOSHI UTAGAWA_OMORI HIKOSHIKI AND PRINCESS ONI_1830
ENJAKU L'ATTORE YONEZO ICHIKAWA III NE IL FANTASMA DI OIWA 1864
Yōkai. One hundred candles and a thousand scary creatures
The last Pirates in Rome
An exhibition project comprising two events in Rome to restore tattoo to its past glory. That is the vision behind "Last Pirates in Rome", two events which showcase authentic tattoo, with the ambiance of a convention from the 80s or 90s, no screens and plenty of big names.
THE LAST PIRATES, ROME, PH BY LOUISE SCHIFFMACHER
Names from forty years ago who made tattoo history: Hanky Panky, Dennis Cockell, Gippi Rondinella, Gian Maurizio Fercioni and Marco Pisa, together of course with the man who dreamed up this project, Gabriele Donnini, a well-known tattooist on the Italian scene in the 1980s, heir to Tattooing Demon Studio in Rome (the venue of the two events), a shop which once belonged to his mentor and pillar of European tattoo, Gippi Rondinella. Let's hear it from Gabriele who can tell us about this event which he calls "Back to the future".
GIANMAURIZIO FERCIONI, THE LAST PIRATES, ROME
"It was in 1985 that the first exhibition on modern tattoo was held in Rome, a fifteen day exhibition in my city, at the Trajan Markets, to be precise. A place I would never have thought of for such an event, right in heart of ancient Rome, one of the main archeological sites on the planet. It featured the best artists from every corner of the world. The name of the event was just perfect: 'The Donkey and the Zebra'. It's easy, see, a zebra is just a tattooed donkey, and no zebra has exactly the same pattern as any other. Just like in tattoo, it's impossible to do two the same.
HANKY PANKY AND MARCO PISA, THE LAST PIRATES, ROME – PH BY LOUISE SCHIFFMACHER
The exhibition opened in spring and Rome was at its stunning best. Already a few days before the event you began to see some oddball characters wandering around the streets in the centre with mohawks, tattoos, earrings…The mutants were coming!
GIANMAURIZIO AND GIPPI, THE LAST PIRATES, ROME
In the great entrance hall I remember there was this huge glass display case with a little museum of tattoo history, full of stuff like tattoo instruments from Japan, Thailand, New Zealand, ancient electric tattoo machines, historic tattoo drawings, most of them donated just for the occasion by Gippi (Rondinella, ed).
DENNIS AND GIPPI, THE LAST PIRATES, ROME
Straight on, to the right, was the start of the market proper. In ancient Rome, the Trajan Market was actually used more for administrative functions than sales, let's say you could think of it as one of the first modern polyfunctional centres. This time, a couple of millennia later, these ancient alcoves were occupied by some of the greatest tattoo artists in the world.
DENNIS, HANKY PANKY, GABRIELE DONNINI, THE LAST PIRATES, ROME
That exhibition had such an enormous impact on me, I can still remember the smells and the magical atmosphere of being able to watch people of that artistic and cultural calibre at work.
For our scene I think that was a watershed moment, but who could ever have imagined where tattoo would have got to later on?
I grew into being a tattooist at the end of the 1970s just for fun, as it were, but after The Donkey and the Zebra I could see the way forward: I wanted to tattoo, trying to abide by the unwritten rules of the trade, constantly learning more, reading and continuing to improve, and this is still true today despite my age, totally aside from my abilities. Keeping that atmosphere and tattoo culture alive is the only way to make sure it doesn't fall by the wayside because time is simply running too fast.
MARCO PISA, THE LAST PIRATES, ROME
The idea of organising a series of event like THE LAST PIRATES IN ROME came to me almost by chance as I was rereading the catalogue of the Roman exhibition for the umpteenth time. To have certain big names back in my shop after almost forty years and reconnect with our passion for tattoo seemed like the right thing to do for tattoo.
THE LAST PIRATES, ROME
I owe so much to it (tattoo) for all that it has given me over the years, money, love, family, friends, culture, pain, so I feel its payback time because being a taker often isn't enough, especially for those who know how to love.
GIANMAURIZIO FERCIONI, THE LAST PIRATES, ROME
I screwed up the courage to just call Hanky Panky, Dennis Cockell, Gippi Rondinella, Gian Maurizio Fercioni and Marco Pisa for the first two events and I'm still kind of flabbergasted at their enthusiasm in saying: "yeah, you can count us in!".
THE LAST PIRATES, ROME
In these two events – held in October and November – I was once more blown away by the way tattoo manages to bring people together. There were tattooists, clients, tattoo lovers and collectors from all over Italy.
GIPPI RONDINELLA, THE LAST PIRATES, ROME – PH BY LOUISE SCHIFFMACHER
I really find it hard to describe what it was like: a kind of glitch in time that everyone felt:
"back to the future", tattoos, hanging out, music, beer, dinners. We managed to create a micro-Convention like back in the 1980s and 90s, incredibly there were no rock stars present despite the calibre of the artists. I have to confess that it was really exciting to get a chance to hang out and chat with the people who brought the scene to life and it sure fired up my old engine all over again.
HANKY PANKY, THE LAST PIRATES, ROME
Watching Gian Maurizio and his daughter Olivia working on the same piece puts my heart at rest about what the future holds; understanding the reasons why Marco Pisa has never been in the limelight he deserves has me dreaming up new ideas; the ethical way Gippi approaches tattoo is something which has had a huge impact on me, and the deep love Hanky Panky has always had for tattoo should be an example for anyone who claims to be a tattoo lover. I am simply floored by the energy and joy Dennis puts into tattooing and proved to me that tattoo keeps you young at heart.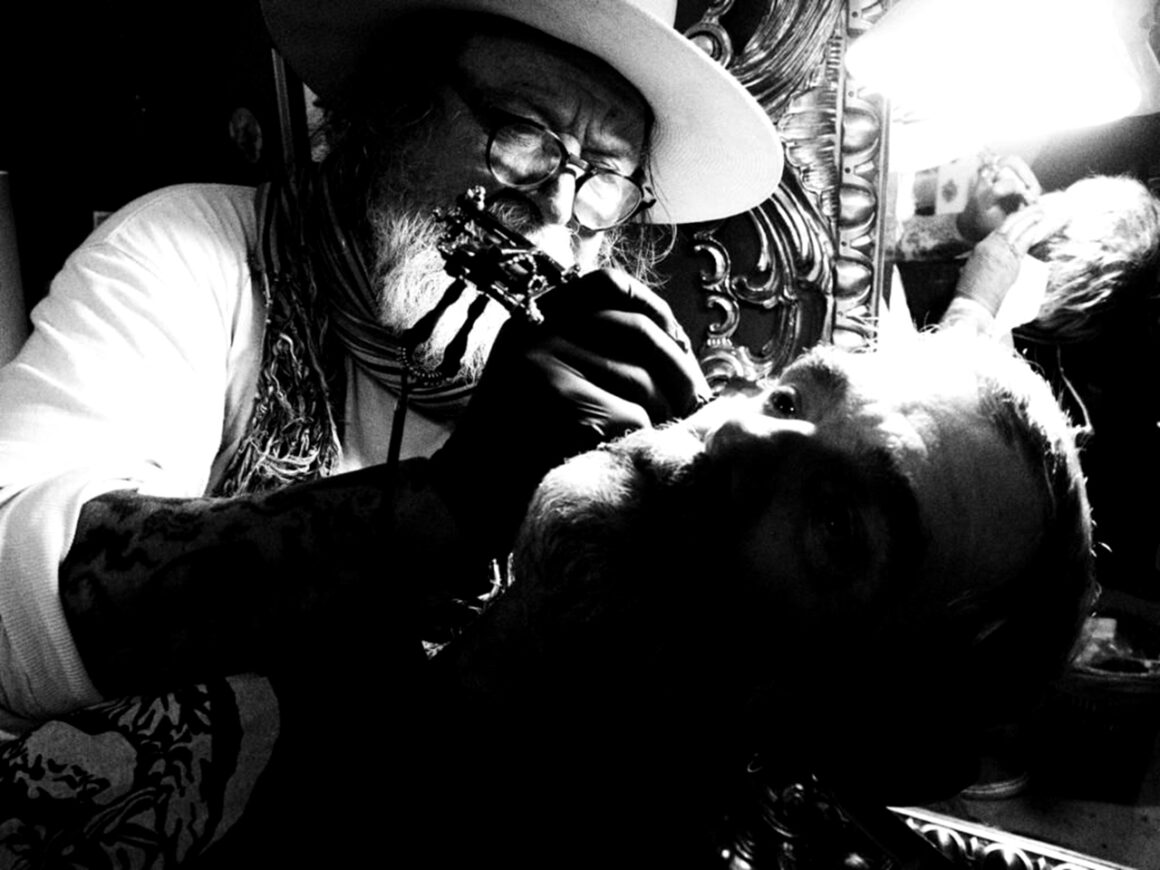 HANKY PANKY, THE LAST PIRATES, ROME – PH BY LOUISE SCHIFFMACHER
I think this is the right way to feed our souls with what makes us tick; to be able to hang out and talk face to face and reconnect on a human level though the lcd screens have been taking all that away as if it had never existed in the first place. This is the purpose of THE LAST PIRATES IN ROME.
GIANMAURIZIO FERCIONI, THE LAST PIRATES, ROME
We want to get people to fall back in love with a scene which has inevitably gone mainstream and hype and maybe, in part, we've brought it on ourselves. The old guys know what they're talking about, the young guys will only ever find out if they go through certain things themselves, otherwise "it will all be lost like tears in rain" (to quote Blade Runner).
DENNIS, HANKY PANKY, GIPPI, THE LAST PIRATES, ROME
A big thank you to all those who came, without you tattoo would have no reason to exist. And to Jurate Piacenti for the invaluable collaboration. Body Supply for believing in a project that was organised out of sheer love. Louise Schiffmacher for the photos and being such a good friend. My son Corrado for making every day more exciting than the one before. My wife for putting up with all my foibles. Olivia Fercioni for trusting me with a piece of her skin. Luisa Gnecchi Fercioni for looking out for a big family.
Respect, Gabriele Donnini
Abraham Lincoln's assassination: the tattoo that helped identify the killer
John Wilkes Booth born May 10th, 1838 in the nearby of Bel Air (Maryland, U.S.) died April 26th, 1865 (Virginia, U.S.), was an American popular stage actor sadly famous for assassinating President Abraham Lincoln at Ford's Theatre in Washington D.C., on April 14, 1865.
He was a fervent Confederate sympathizer, who strongly opposed to the abolitionists that sought to end the slavery in the United States and nourished a deep hate against President Lincoln and his politics.
THE ASSASSINATION OF PRESIDENT LINCOLN, PUBLISHED BY CARRIER & IVES
What is curious and interesting in the story of Abraham Lincoln's assassination is that a tattoo played an important role in the identification of John Wilkes Booth both during his escape to Northern Virginia and after his death.
"He had perfectly shaped hands," Asia Booth Clarke recalled of her brother, John Wilkes Booth and added: "across the back of one he had clumsily marked, when a little boy, his initials in India ink." These letters, described by further writers as "pricked" into Booth's skin, remained on him all his life as an indelible mark. Moreover, Mrs. Clarke is still now the only reliable source who knew how J. Wilkes Booth got the marks: he had pricked them into his flesh by himself during his boyhood. Thus, it seems safe to say that John Wilkes Booth did in fact bear the initials "J. W. B." across the back of his hand near enough to the wrist area; it could be said that since Booth was right-handed, it is highly likely that the initials were on his left hand.
COLOR LITHOGRAPH ON PAPER DISPLACING THE ASSASSINATION OF PRESIDENT LINCOLN, CREDIT SMITHSONIAN NATIONAL PORTRAIT GALLERY
When the assassin of President Lincoln passed through southern Maryland and into Virginia in the days following the crime, the initials that JWB got tattooed, played a crucial role since the very first day after Lincoln's death because helped associate Booth's identity. It is true that the eyewitnesses' testimonies agreed with the fact that the tattoo initials were on Booth's hand but it remained unclear whether it was the right or left one and this led to an even deeper controversy surrounding Booth's final fate.
SKETCH APPEARED IN HARPER'S WEEKLY ON MAY 13 1865.
Within a short time after his death, a number of witnesses were called to identify the body. Important to mention is an interesting extract taken from the identification of Charles Dawson, the clerk at the National Hotel, where Booth was staying: "I distinctly recognize it as the body of John Wilkes Booth – first, from the general appearance, next, from the India-ink letters, 'J.W.B.,' on his wrist, which I had very frequently noticed, and then by a scar on the neck […]"
JOHN WILKES BOOTH
This is to say that in the end, unfortunately without photographic resources that do not give us any evidence of the exact point of the tattoo, a veil of mystery will continue to surround the matter of "J. W. B." tattoo initials, just as it pervades many other aspects of the life of the fascinating and misguided John Wilkes Booth.
Gabriele is a tattoo enthusiast with an interest in ancient tattoo history and techniques. Since age 16, he has been studying tattooing cultures from all around the world. For his degree in Oriental Cultures and Languages, Gabriele wrote the thesis "L'arte del tatuaggio nella Cina antica" ("The art of tattooing in the ancient China"), which investigated Chinese tattooing from ancient to contemporary times. In 2019, Gabriele conducted ethnographic studies at Tharu villages in the Bardya National Park area of Nepal, specifically focusing on the Tharu tattoo culture.
Stay Stoned: madness, cannabis & tattoos
A new exhibition in the centre of Amsterdam explores the crossover of two previously controversial topics: cannabis and tattoos.
The Hash Marihuana & Hemp Museum, whose Amsterdam and Barcelona venues have welcomed over two million visitors since its founding in 1987, exhibits Stay Stoned: Madness, Cannabis & Tattoos from June 18th, 2022 to February 26th, 2023.
STAY STONED EXHIBITION
The opening of the exhibition was also the book launch of Stay Stoned Vol. II., a new collection of cannabis tattoo art compiled by tattoo experts Gilberto Cannarozzi and Samuele 'Sem Boy' Salvadori.
STAY STONED EXHIBITION
The Marihuana Marlboro Man
Tattooing and cannabis use have both been part of human cultures for thousands of years, whether for ceremonial or recreational purposes, but it wasn't until the early 1970s that tattoos displaying one's love for cannabis started to appear.
@SAILOR JOORY, STAY STONED EXHIBITION 2022
Smiling weed leaves, stoned cartoon characters, the Zig-Zag Man (marihuana's enigmatic answer to the Marlboro Man), and pin-up girls on cannabis flowers, joints and bongs have been popular subjects for permanent decoration since these revolutionary years.
@SAILOR JOORY, STAY STONED EXHIBITION.JPG
From the underground to the mainstream
As both cannabis and tattoos move closer to mainstream acceptance in many parts of the world, the stigma around them is falling away. The requirement to hide both cannabis use and skin art in order to secure a promotion or make the 'right impression' is no longer as pressing. According to museum founder Ben Dronkers, cannabis tattoos can be '…a declaration of love, a rebellious statement, a token of freedom, an activist act, or maybe even a hazy decision, it is quite something to get a permanent and visible marker of love for the plant'.
@BILL LOIKA, STAY STONED EXHIBITION 2022
From flash to paintings
There is no shortage of tattoo designs, from elaborate custom pieces needing multiple sessions to the off-the-peg images known as 'flash' that decorate the walls of most tattoo studios. Stay Stoned: Madness, Cannabis & Tattoos features no less than fifty newly-made paintings, drawings and flash depicting new twists on classic tattoo themes. These works are part of the new volume of Stay Stoned. The books feature contemporary designs and working artists, demonstrating that the genre of cannabis tattoos is still vibrant today.
@DANNY BOY, STAY STONED EXHIBITION 2022
From tattoo museum to cannabis museum
Featured artists include Danny Boy, Jondix, Bill Loika, Robert Ryan, Tomas Redrey and Henk & Morris Schiffmacher. In a curious turn of fate, the exhibition itself is shown in the building which was formerly Henk Schiffmacher's Amsterdam Tattoo Museum!
@TOMAS REDREY, STAY STONED EXHIBITION 2022
Lending historical context to these modern designs is a selection of art from the vast collection of the Hash Marihuana & Hemp Museum. With over 9,000 items related to 'the Devil's Lettuce' to choose from, the museum is capable of finding something to complement every type of exhibition; in this case, it's the brightly-coloured, psychedelic poster art of the 1970s that served as inspiration for many of the original cannabis tattoos.
STAY STONED EXHIBITION
Fans of tattoos and cannabis, but also contemporary design history and modern subcultures, will all find something to enjoy here.
Stay Stoned: Madness, Cannabis & Tattoos runs from June 18th, 2022 to February 23rd, 2023. Entrance is included with a standard museum ticket.
The Hash Marihuana & Hemp Museum manages and exhibits a unique collection, on display in two locations: a canal house in central Amsterdam and a
Modernista palace in Barcelona. The museum's collection is composed of over 9,000 rare artefacts related to all aspects of cannabis history and culture.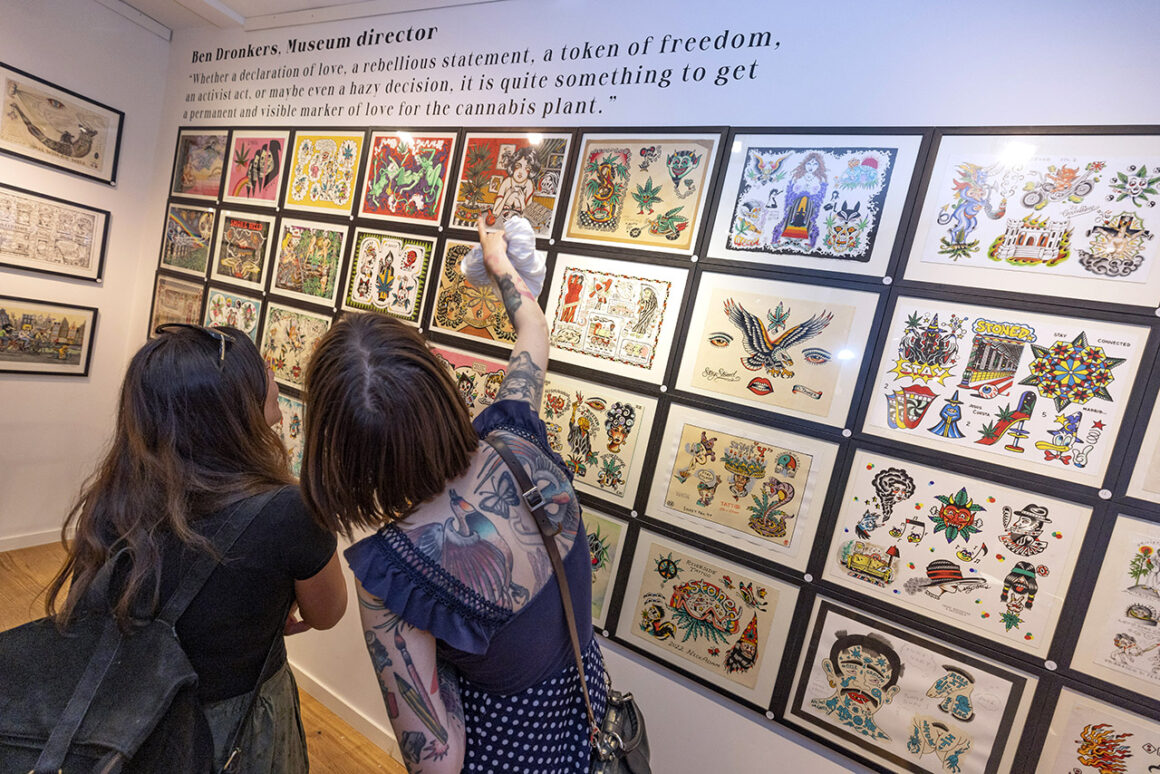 STAY STONED EXHIBITION
Sensi Seeds has been operating for more than 35 years and is the benchmark in terms of cannabis genetics, including medicinal cannabis genetics.
HENK & MORRISON SCHIFFMACHER – 2022 (COLLECTIE HASH MARIHUANA & HEMP MUSEUM)
HempFlax is established in The Netherlands, Romania, and Germany. This company continues to pave the way in developing the industrial hemp market. It is Europe's largest independent CBD producer. Other products range from construction materials to bio-plastics and high-quality food products.
Women and Ink Stories by Reka Nyari
"I am really interested in shooting women who are very extensively tattooed and are interested in telling their life stories through my art".
From this motivation arise the refined art photographs of Reka Nyari, part of the "Ink Stories" project.
REKA NYARI, INK STORIES
The bodies of six tattooed women (six up to now, but in expansion) are the subjects on which her lens rested, not interested in the body itself, but in the history intimately enclosed in the tattoos that cover it, as Reka tells us in this interview in which she says: heavily tattooed women wanted!
REKA NYARI, INK STORIES
Hi Reka welcome to Tattoo Life. First of all could you please give us a short presentation of yourself as an artist and photographer?
I am a NYC-based fine art photographer. I was born in Helsinki and grew up between Finland and Hungary. I came to NYC at the age of 17 to study painting and have lived and worked here ever since. For the last 5 years, I have been working on my "Ink Stories" series, which captures extremely tattooed women from around the World, telling their life stories through the ink on their skin.
REKA NYARI, INK STORIES, ROUTES
I recently started "puncturing", or almost tattooing and scarifying my art pieces, creating a 2-dimensional effect that adds yet another narrative to the artwork. I also create video work that I release as limited edition fine-art NFT's.
REKA NYARI, INK STORIES
Recently you have exposed in Milan after a series of international exhibitions – I believe the first one in New York in 2017– where you presented your project titled Ink Stories. Would you like to talk about it? How did it start, how did you get close to tattoo?
I had an exhibition at the DART Dynamic Art Museum from Nov 2021 till Feb 2022. It was really amazing to have my pieces next to one of the great masters of classical art like Caravaggio, as well as some of the biggest NFT and digital artists in the World, like Beeple. Quite a juxtaposition. I love Italy and Milan… It was great visiting the city again for my live art performance in December 2021.
REKA NYARI, INK STORIES
I have been working on my INK STORIES project since 2017. So far I have shot 6 women from around the World, and the number is growing.
I have always loved shooting portraits of women and have been interested in the art of tattooing.
Tattoos are such a beautiful, final, artistic, and rebellious way of claiming back one's body, often working as a therapy to transform a person's life as well as appearance. They can be emblems of strength, reminders of courage, and guides to a better path in life. The series has been shown in NYC, LA, Miami, Hong Kong, Paris, Milan, Venice, Toronto, Istanbul, Johannesburg… really, all over the World.
REKA NYARI, INK STORIES
How did you choose the subjects of your photographs? Following which aesthetic criteria?
I find sometimes my subjects online, on social media, and out on the street… People send me recommendations and messages from all over the World. I am really interested in shooting women who are very extensively tattooed and are interested in telling their life stories through my art.
REKA NYARI, INK STORIES
For each photo you also give a text story?
Yes, the images are a lot more than beautiful photos of tattooed women. All of the tattoos are real, and each series tells the intimate true-life stories of my subjects. I get to know each one of the women quite well before we shoot.
I think of the shoots as a collaboration, as a transfer of energy between me and my subject.
My artist statement for each series covers the intricate stories of my subjects. I view myself as a storyteller.
REKA NYARI, INK STORIES
What do these Ink Stories represent?
Each series/woman has a unique narrative related to their life and tattoo stories that come across in the symbolism of the images. For example, the young woman in GEISHA INK had her entire body tattooed by her lovers as a rebellion towards her conservative and traditional upbringing.
REKA NYARI, INK STORIES
At the time of the shoot, her parents still had no idea that her body was completely tattooed. The whole project is really about transformation, overcoming our fears and obstacles, and taking back our lives and bodies. Women are so incredibly strong and beautiful.
REKA NYARI, INK STORIES
I have read one of the interpretations you gave is: Intimate studies of self-identity and female empowerment. Is that correct?
Yes. The women that I portray have chosen to transform and claim back their bodies, in one of the most rebellious and visual possible ways. I am a woman, see me roar. They are unapologetic, brave, kick-ass.
REKA NYARI, INK STORIES
In your nudity there is no erotism but rather awareness of our own body. Do you agree?
Absolutely, you have it 100% right. My photos are not eroticism, which is meant to arouse. The women are sometimes nude, but their purpose is not to turn on the male (or female) viewer. They are pleasing themselves, telling their stories. I am a firm believer that nudity does not mean sexuality, and vice versa.
REKA NYARI, INK STORIES
Are you planning to expand the project to new chapters which will add to the existing ones?
Yes absolutely. I have already shot a few more women, and plan to have at least 10 in the collection. I am planning on releasing a large coffee table book, and looking forward to exhibiting my work in more galleries and museums around the World.
REKA NYARI, INK STORIES
To see more of
Reka
's work:
Instagram:
Twitter:
Tattoos and spirit of rebellion in the figure of George Orwell
Eric Arthur Blair (25 June 1903- 21 January 1950), better known by his pen name George Orwell, was a famous author and journalist.
His notable works like Animal Farm, 1984, or the essay Shooting an Elephant are marked by keen intelligence, wit, intense opposition to totalitarianism and strong belief in democratic socialism.
PHOTO POSTCARD DISPLACING THE PROCESS OF TATTOOING A BURMAN, FIRTS DECADE OF XIX CENTURY, FROM PRIVATE COLLECTION OF GABRIELE GORI
In 1922 Orwell left the studies and returned to India; he then enlisted in the Imperial Police in Burma (actual Myanmar) and on November 22nd 1922, he arrived in Mandalay, his future workplace. There he experienced traumatic episodes related to the English colonial policy that led him to develop a growing disgust for violent imperialist arrogance and the repressive function of his work position, from which he resigned on January 1st 1928.
PHOTO POSTCARD DISPLACING A BURMESE SHAN MAN, FIRST DECADE OF THE XIX CENTURY, FROM PRIVATE COLLECTION OF GABRIELE GORI
It is clearly mentioned on George Orwell's passport that he had particular blue tattoos on the back of his hands, on each knuckle. According to his memories, he didn't remember exactly when, how and who did those small tattoos on his hands. He only recalled that he got them while he was serving in Burma. Some people saw those unique tattoos but unfortunately there is no proof from published photographs. Adrian Fierz, son of the friend who helped Orwell find his first publisher, spotted the tattoos and asked about them. "They were," he recalled, "blue spots the shape of small grapefruits – one on each knuckle."
COLORED AND RESTORED PHOTO OF GEORGE ORWELL, 1940′
Orwell might have got tattooed in Burma because of his fascination with the Burmese culture of tattooing and for the protective and magical power that tattoos would bring to the bearer. In fact, it was a common habit of the Burmese rebels to get tattooed a Galon (mythical eagle known elsewhere as Garuda) tattooed with blue ink.
PARTICULAR OF GALON, MYTHICAL EAGLE KNOW ALSO AS GARUDA
Saya San, the leader of Saya San Rebellion of 1930-1932 in British Burma, was an expert tattoo artist and strongly believed in their magical and protective qualities. A walking advertisement for his skill with the tattooing needle, Saya San got all his followers tattooed. The markings provided full identification including fingerprint and flag, and incorporated an elaborate and carefully devised symbolism meant to confer immunity to the hazards of battle.
PARTICULAR OF SAYA SAN, LEADER OF THE SAYA SAN REBELLION, DISPLACED IN A 90 KYAT BURMESE BANCONOTE FROM 1987
Orwell's tattoos were probably a message to the members of the British establishment in Burma stating that he was not "one of them", a mindset that on the one hand was highly fruitful for his writing, while on the other hand made him a suspect to the intelligence authorities.
PHOTO POSTCARD DISPLACING TATTOOED BURMESE VILLAGER, FIRST DECADE OF XIX CENTURY, FROM THE PRIVATE COLLECTION OF GABRIELE GORI
Orwell's tattoos, then, should be considered as an act of solidarity towards the Burmese rebels and as a manifestation of the writer's rebellious nature towards British colonial institutions.
GEORGE ORWELL PHOTO TAKEN WH
Manga Heroes. From Tezuka to Pokémon
Manga art, its evolution and heroes – from the better known historic figures which have captured the imagination and influenced the drawing of a generation to those lesser known, more sophisticated ones, for the true connoisseur – this is the focus of the exhibition Manga Heroes. From Tezuka to Pokémon at Fabbrica del Vapore in Milan running until 2nd January 2022.
OSAMU TEZUKA, ©TEZUKA PRODUCTION
OSAMU TEZUKA, MELMO, ©TEZUKA PRODUCTION
An experiential, visual and sensory journey in the Japanese world of Manga Heroes,robots, monsters, mythical fighters, female warriors, heroes and heroines of a phenomenon which was once just "Japanese cartoons" and constituted much of our collective imagery of the Land of the Rising Sun but can finally boast a massive following.
TATTOO BY ALAN FERIOLI, @ALAN_FERIOLI
This exhibition of rarities which equally encompasses toys, posters, cel animation and other material dating from the 1950s to the present day, tracks the rise of a category of collectables which now vies with the prices seen in contemporary art
LADY OSCAR
All in all, 315 characters presented through original props and materials as well as rare, hard to find pieces. Almost two thousand objects in 3D together with 300 manga plates including originals, reproductions and precious cel animation. The stars here are both the most renowned characters of this pop universe and the artists and creators of these iconic figures.
DRAGON BALL, ORIGINAL POSTER, TOEI PRIVATE COLLECTION
The public is presented with a narrative of transformations beginning with the hero quest, continuing with the medium itself (from comics to animation) and the variations on the theme of the subject narrated (the story within a story, the issue of gender).
TATTOO BY MANUEL MORETTI, @MANUEL_MEMORINK_MORETTI
To make all of this possible, the exhibition also presents a number of ad hoc installations taking the visitor on a journey which alternates the classic museum experience with theatrical entertainment featuring Instagram fans who can have their portrait taken as they simulate the adventures of Yattaman, Tokyo Ghoul and many more.
ATTACK ON TITAN, OFFICIAL POSTER, PRIVATE COLLECTION
ANIMATION CEL, TETSUJIN, PRIVATE COLLECTION
The exhibition aims to present heroes across the board from the great icons of the past such as Tiger Man, Gundam and Goldrake to more recent phenomena like Sword Art Online, Dragon Ball, and Pokémon. In addition to Manga and Anime (the specific term to describe Japanese animated cartoons), for the first time ever an Italian exhibition will also feature Tokusatsu, the marvellous films and television series with naif actors and special effects which have become famous the world over for Godzilla, Ultraman and Power Rangers.
The exhibition is curated by Jacopo C. Buranelli, organised by J-POP Manga – the imprint of Edizioni BD devoted to manga, Visiona società which has organised Naples Comicon for twenty years (next edition 22 – 25 April2022), together with the Milan municipal authority Comune di Milano.
TATTOO BY ADAM RZYCHU, @RZYCHU
TATTOO BY DANNY ELLIOTT, @DANNYELLIOTT_INK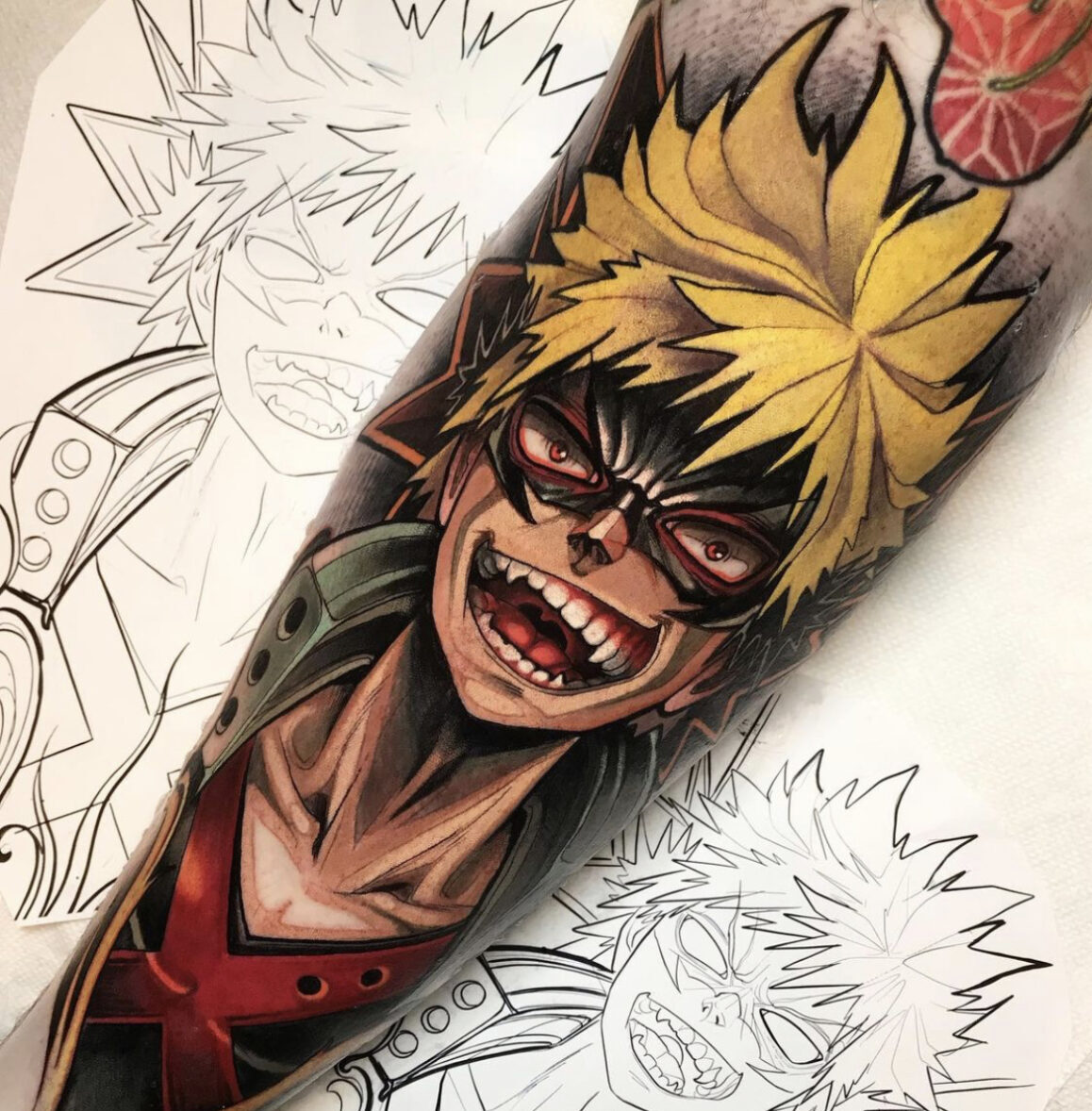 TATTOO BY ISNARD BARBOSA, @ISNARDBARBOSA
Hokusai Rediscovered at the British Museum
This Autumn, over 100 newly rediscovered Hokusai drawings will be displayed for the very first time at the British Museum.
2020,3015.60
'DEVADATTA SURROUNDED BY EVIL SPIRITS'
MONK DEVADATTA (DAIBADATTA IN JAPANESE) WAS BY TRADITION THE COUSIN AND BROTHER-IN-LAW OF SHAKYAMUNI BUDDHA. IN THE LOTUS SUTRA HE WAS THE ARCHETYPE OF AN EVILDOER. HERE HE HOLDS SWAY OVER A VARIETY OF GROTESQUE EVIL SPIRITS.
Katsushika Hokusai (1760-1849) was one of the most prolific artists of the Edo period, creating some 30,000 works over the course of his career. Hokusai began making art at a young age and continued developing his craft until his death, aged 88. His best-known works include 'The Great Wave off Kanagawa' and 'Fine Wind, Clear Morning'.
TATTOO BY @GAKIRULESTATTOO
TATTOO BY @HORIFUKU
TATTOO BY @PECO_TATTOOER
The 103 drawings on display were originally intended for an illustrated encyclopaedia, The Great Picture Book of Everything, a project which never came to fruition. The existence of the drawings had been long forgotten – they had disappeared after being snapped up at a Parisian auction in 1948 to a mystery buyer. Eventually they resurfaced in Paris in 2019, where they were secured by the British Museum.
2020,3015.19
'FUMEI CHŌJA AND THE NINE-TAILED SPIRIT FOX'
FUMEI CHŌJA IS THE NAME GIVEN IN JAPAN TO INDIAN KING SUTASOMA. HE HOLDS A SCROLL, PRESUMABLY USED TO CONJURE UP THE NINE-TAILED FOX SPIRIT THAT EMERGES OUT OF CLOUDS. TALES OF FOX SPIRITS WHO TOOK THE FORM OF BEAUTIFUL WOMEN IN ORDER TO CAUSE MISCHIEF IN INDIA, CHINA AND JAPAN WERE POPULAR IN JAPAN IN HOKUSAI'S DAY.
The postcard sized illustrations are lucky to have survived. The richly detailed line drawings were originally intended to be printed, but were instead stored away in a box. Had the book gone ahead for publishing, a professional block-cutter would have used the drawings as his guide, chiselling through the paper to create a printing block and destroying the fine paper drawings in the process.
2020,3015.46
'DRAGON HEAD KANNON'
IN ONE OF THIRTY-THREE MANIFESTATIONS OF AVALOKITEŚVARA (KANNON IN JAPANESE), THE BUDDHIST BODHISATTVA OF COMPASSION, THE DEITY APPEARS SEATED ON THE HEAD OF A DRAGON. A SIMILAR COMPOSITION BY HOKUSAI IS INCLUDED IN THE PRINTED ALBUM HOKUSAI'S ALBUM DRAWN TRUE-TO-LIFE (HOKUSAI SHASHIN GAFU) PUBLISHED IN 1814, ALTHOUGH THIS BRUSH-DRAWN VERSION IS SUPERIOR. THE MODULATED INK WASH OF THE CLOUDS AND THE DARK SCALING ON THE DRAGON'S BODY ARE PARTICULARLY SKILFUL.
The unique drawings include many subjects that have never been found in other Hokusai works. Images inspired by ancient China, Buddhist India and the natural world abound, from mythological figures to animals, birds and flowers.
TATTOO BY @MAMBOTATTOOER
A major discovery, the drawings are helping experts piece together new information about Hokusai's life and work. Since being acquired by the museum, further research has revealed that the illustrations were made in the 1840's, when the artist was in his eighties.
2020,3015.10
'CATS AND HIBISCUS'
A STANDOFF BETWEEN TWO CATS, WITH HIBISCUS (FUYŌ) BEHIND.
"Hokusai's brush-drawings for The Great Picture Book of Everything burst with energy. As the artist himself hoped, each dot and each line almost seems to have a life of its own. This remarkable rediscovery will speak to anyone who loves Japanese art or simply the art of drawing." Alfred Haft, Project Curator for Japanese Collections, British Museum.
TATTOO BY @HIDE_ICHIBAY
TATTOO BY @MATTIUSSI.CHIARA
Two versions of Hokusai's iconic 'Great Wave' will also be displayed at the exhibition. All of the works can be viewed online for those further afield, and will be featured in an accompanying hardback book published by the British Museum.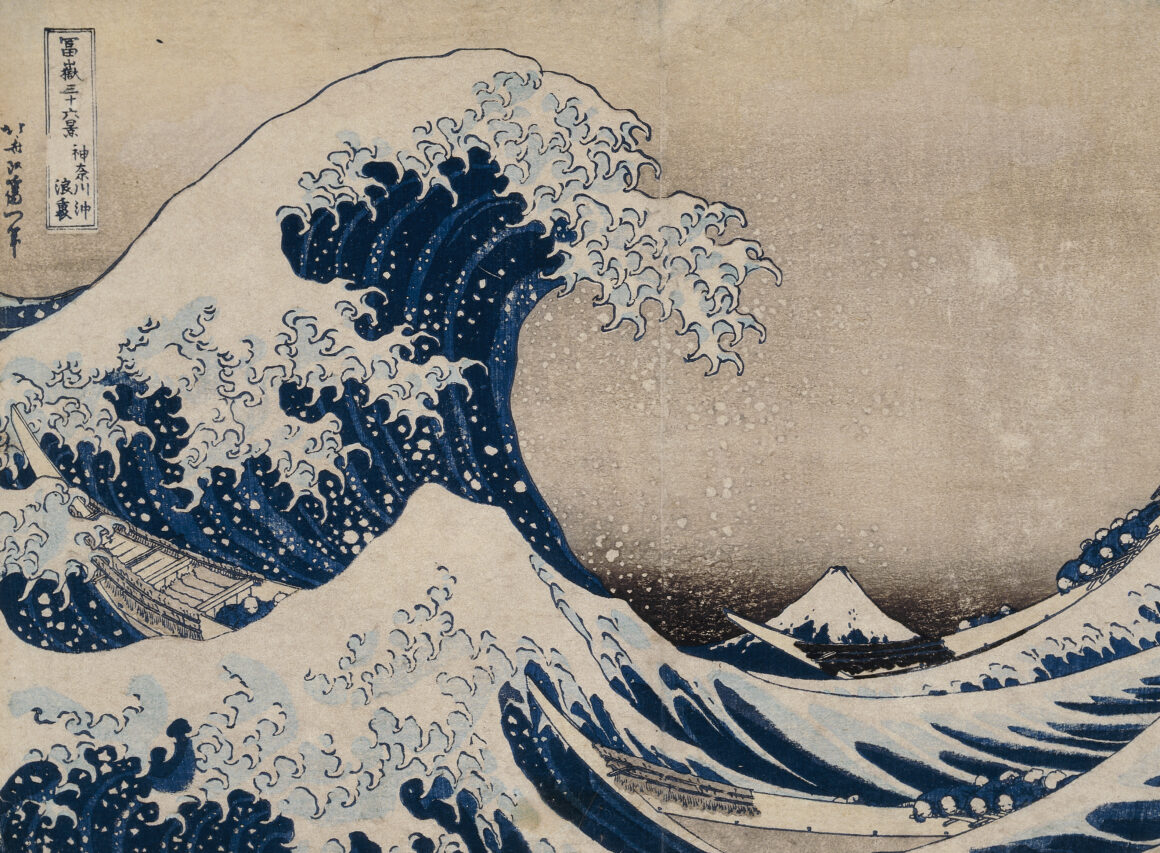 1906,1220,0.533 UNDER THE WAVE OFF KANAGAWA ('THE GREAT WAVE') FROM THE SERIES THIRTY-SIX VIEWS OF MT. FUJI (1831) BY KATSUSHIKA HOKUSAI (1760–1849). COLOUR WOODBLOCK PRINT. © THE TRUSTEES OF THE BRITISH MUSEUM
Hokusai:
The Great Picture Book of Everything runs from 30 September 2021 to 30 January 2022 in Room 90 at the British Museum.
The beautifully illustrated book Hokusai:
The Great Picture Book of Everything by Timothy Clark will be published by the British Museum in September 2021.